Products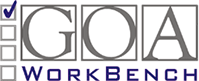 GOA is short for "Group Opinion Analyser" and the offered solution contains a complete family of assessment and survey based management techniques.
All GOA-WorkBench Modules have the following characteristics:

Easy to use Survey Tool

Pre-defined, rich question catalogues
Easy to adapt to company specific demands

Multilingual

Interface and knowledge base languages changeable
Consistency of data maintained in multilingual surveys

Multimedia Training

Easy training on how to use the tools
Content oriented training (e.g. how to perform an assessment or a specific survey)
Training on TQM basics for all of the company

Optionally Paper Based or Electronic Surveys
GOA exists both as a Windows programm and as a SaaS-Solution (www.goa-workbench.com).
Overview about our configurable and extendable management software solutions:
Generic Top Level
Sector Specific Level
Branch Specific Level
Specific Surveys
Sector or Branch

EFQM Assessment Professional Assessor Team Version


GOA Inquiry Center


GOA Balanced Q-Card

EFQM Assessment Standard EDU

EFQM Check-Up EDU
Easy Assessment EDU
ISO 9004 Assessment

People Satisfaction EDU
Training Evaluation
Satisfaction of companies with schools
Objectives

Education & Training Organisations

EFQM Assessment Standard
IPMA Assessment

Easy Project Assessment
ISO 9004 Assessment

People Satisfaction
Customer Satisfaction
Team Efficiency
360° Management Feedback
Innovation Culture
Learning Organisation Inventory
Objectives

Service Organisations
Health Care

EFQM Check-Up SME
Easy Assessment SME
ISO 9004 Assessment

People Satisfaction
Customer Satisfaction
Team Efficiency
360° Management Feedback
Innovation Culture
Learning Organisation Inventory
Objectives

Production Industries

CAF – Common Assessment Framework

Easy Assessment CAF
ISO 9004 Assessment

People Satisfaction
Team Efficiency
360° Management Feedback
Innovation Culture
Learning Organisation Inventory

Public Administration

Home Care